---
I don't agree with everything Steve Jobs did, neither do I consider him an example that I'd follow. But I have to give him that not giving a cent to philanthropy was the best thing he ever did for the rest of us. You see, there is no greatest temptation for the modern man in the western world, than to find ways to justify his wealth. Deep inside we all know that while we wait for next cool iPhone 6 or a shiny fast MacBook, millions of people starve to death in other parts of the world.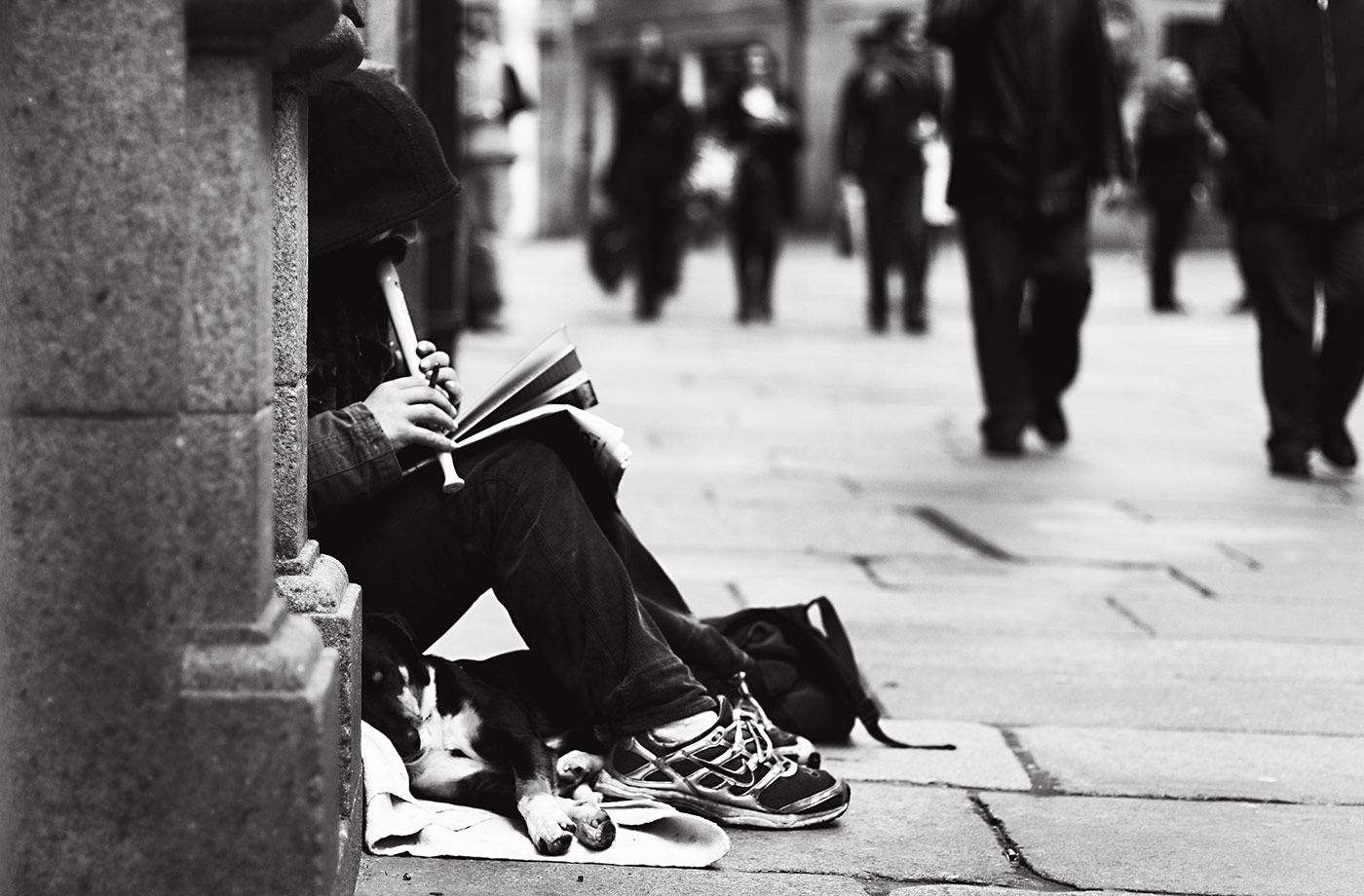 The mess is all around us
But you don't have to go that far to experience the mess. As a person living in the center of a capital, in a western country hit by recession, I see homeless people in the streets every day. Before the recession, people living in the streets was a problem of some major cities like New York and London. I've never had the chance to see people who literally just hope to make the day by finding food in the garbage.
In the first few weeks it was a shocking view. For the first time I've seen people whose entire fortune is just a blanket. But what was even more shocking was the months that followed that. I've started to notice each of these people individually and notice trends in their daily lives. There is one guy sleeping outside the office where I work. He only shows up after night so that all the people from the offices are gone. Another one, an old guy with a large beard, lives outside a jewellery shop and eats from the garbage can next to it. He sits for an hour or so before he goes back in the garbage for a snack.
There is a huge number of immigrants in the center of Athens as well. People mostly from Bulgaria, Albania and other countries of the former Soviet block but also from Pakistan, Afghanistan and even from African countries. At best they live piled up in old abandoned houses without electricity, water or heating. Ten or fifteen people are forced to live in the same room because that's the best they can afford. Needless to say, they missed the announcement of the new lightning connector on the new iPhone.
Why do those people suffer ?
Why do all those people suffer so much ? Why is it that they can't afford anything, while at the same time others have everything ? To be honest this is a question that goes beyond me. I can't tell you if it's the flaws of capitalism, or if people are greedy by nature. I can't even tell you what we can do to make things better for them. Should western governments force multinational companies to raise the wages they pay on Asian and African countries ? Should we make more free trade zones that include the poor countries ? Perhaps there is an answer to be found and perhaps there is hope for a better more equal world. I certainly hope so although I don't have such an answer.
However I am certain that we won't find a solution through philanthropy. In fact I believe that the more we fund philanthropy, the more we condemn those people to more poverty. It sounds very reasonable though, I'll give philanthropists that. How is it not help, when we give the poor people money ? It's not help because you've missed the fact that poor peoples' problem is not the lack of money.
What is the problem poor people have then ?
I have been without a job for a couple of long periods in my life. But it only took a few months each time, before I got a new job and joined the moneymakers again. I didn't have an income at that time but had lots of other benefits to make up for it. Most of all I kept on being considered a part of society and an able worker. To everyone, including me, losing my job was only a minor temporary setback.
Unfortunately unemployed people and immigrants are not that lucky. Even if they do have a job, it is (ironically) considered a temporary success. The major problem poor people have, is the fact that by default, society considers them less entitled to wealth. This happens for one reason or the other depending on the case. For immigrants it's their nationality, for black people it's their color, for people in underdeveloped countries it's the fact that they just happen to live in underdeveloped countries.
The global point of view (in the western world at least), is that Chinese workers are entitled to $400/m at best in companies like foxconn, while people working to produce the same products in the USA, are entitled to more than $15.000/m. So even if Bono succeeds in the "drop the debt" campaign, people in Africa will still be making pennies the next day. It will only take a few years before we get back to the same state. As long as we leave the causes of inequality untouched, we will end up in the same state.
But why is philanthropy a problem ?
The one thing (almost) all philanthropists have in common is that they never talk about what causes the problem. They want to offer painkillers to people with a rotten tooth. Nobody ever proposed a law that will cut wages in half in his country so that people in another country can have more. Everybody pretends to want to help but at the same time all they are willing to sacrifice is their 3rd iPad. Nobody ever proposed to change the way we see ourselves as entitled to wealth.
By donating a bit of your income to charity, you are practically washing your guilt away. It's your way of saying "I gave you something. I am a nice person. I have done all I could about your poverty. That will be all.". What this does is shift people's attention from the real problem. If as a society, we got some people like Bono trying to drop the debt, we get the impression that we are already doing something about it.
But we are not. We are just giving people painkillers and consider their rotten tooth problem fixed. It's only prolonging their suffering and shifting the conversation away from "the dentist". And the worse part is that Bono considers that bankers should lose their wealth for the debt in Africa to be dropped. At the same time it's perfectly acceptable for him to travel the world business class.
Because Bono deep inside, seems to consider himself a god-gifted artist with sensitivities, while bankers are evil capitalist pigs who must loose their money so he can keep his, and feel good at the same time. This is the exact mentality which causes the inequality problem in our world. That for some reason "we are good" and not part of the problem. The poverty problem is supposed to be caused by "others", the evil bankers, evil lawyers, evil politicians. And since we are good we are entitled to our wealth.
And since all people consider themselves entitled to what they have, at the same time they practically consider the others entitled to their poverty. And all the philanthropy and charity in the world does nothing to change that mentality. It's only rich people's way, of feeling better for being entitled to their wealth, since they gave some pennies away.